As much as we hate to use the phrase, "the new normal", that's exactly what we're living in right now and manufacturing plants need to future-proof their facilities to keep up with critical consumer and safety demands because it's not just about widgets and temperature checks anymore.
Meet the Factory of the Future
Industry 4.0
By incorporating a wide range of digital technologies like inventory trackers, computer vision, machine-to-machine communication, cobots, fleet telematics, facial recognition, thermal cameras, and remote solutions, you give your manufacturing arm a leg up on the competition and ensure your facility is able to produce and operate at its fullest potential.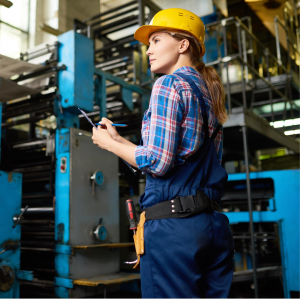 IoT-enabled plants are key to an asset's long-term production viability and your corporation's continued cost-competitive strategies.
IoT-enabled manufacturing plants increase efficiency, improve safety, and speed product innovation. Three primary factors are required to successfully implement Internet-of-Things devices within a plant:
Widely available Internet access

Sensors

Cloud computing
The most important factor is a strong, ubiquitous wireless network. IoT devices, IP cameras, sensors, cloud services cannot record, analyze, and communicate unless a strong and secure network exists to support and connect these devices.


DAS / Cellular Survey & Implementation

installation & Maintenance services

Project &

Vendor Management
Implementing this sophisticated technology at your manufacturing plant or across your portfolio doesn't need to be time-consuming or difficult. Let Coranet be your partner and
help your organization take its next steps into Industry 4.0 - an investment that's sure to pay dividends in worker safety and plant productivity for years to come.